THE

PATHWAYS CRONULLA SEASIDE

 

NEWSLETTER
FARIBA'S COLUMN
Pathways Cronulla Seaside Executive Manager, Fariba Daniel
Dear Residents and Friends
Welcome to our first edition of Newsletter in 2020. I hope you find our newsletter informative with regards to what is happening at Cronulla Seaside Aged Care. As always a big welcome to our new residents/families and staff. Our thoughts and prays are also will be with residents who have departed us.
The staff & management team at Pathways have been busy with our new quality projects three of which will be shared with you in this newsletter.
Care page is one of our new initiatives introduced in early February 2020. Care page is a software program which allows us to capture resident, their families /friends, staff and other stake holder's opinion on our care & services. We aim to utilise the feedback gathered by care page as a tool to improve our services to our consumers and staff. In the near future staff, mainly Marie & Helen will invite you to complete a very simple survey which is very easy to do and would only takes few minutes to complete. The survey can be done anonymously or if you prefer to hear from us with follow up you need to provide us with your details.
Riskblits is another software program that Pathways has implemented recently which has both clinical and human resource application and it is linked to our other software program providing a comprehensive network for our services to enhance our provision of care.
Finally the introduction of Medsig which is an electronic administration of medication will be implanted early March 2020 which would improve the efficiency and accuracy of medication administration by staff.
Apart from focusing on the care of our residents at Cronulla Seaside, staff and management have been aware of the current issues affecting our larger community particularly the spreading of Corona virus.
Information/ up date regarding Corona Virus was distributed among our families and staff recently to provide basic facts to everyone about the disease.
As always I welcome any feedback / suggestions that you might have on any matters related to our care / services.
Regards,
Fariba – 03 March 2020
Carmel O'Sullivan

March is birthdays for our following residents:
Marica Newburg & Phillip Battikha.
Like to take this opportunity to extend a very warm welcome to our new residents and their families and friends over the past few months, Our thoughts and prayers are also with the families of those residents who are no longer with us.
Welcome to our new staff members.
1. Tell us about yourself – where are you from?
I am Reshma Velgekar, I work here at Cronulla Seaside as a Cook/Kitchen hand. I am from India.
2. What made you decide to pursue work in aged care?
I love to care for my grandparents and have a passion for the elderly.
3. What do you love about working in aged care?
I love to make people happy and know I have helped in their care.
4. What are some of your professional goals?
I would love to further my study's and later become an RN.
5. What inspires you in your role at Pathways?
The staff inspire me with such a great collection of staff who are kind and caring.
1. Tell us about yourself – where were you born, go to school and what are some of your life achievements?
I am Colin I was born at Royal north shore Hospital, and attended Asquith Public school and boys high school.
2. Where did you live before moving into Pathways?
Cronulla.
3. What do you enjoy most about living at Pathways?
I enjoy the staff and the company and friendships I have made.
4. What specific activities do you enjoy participating in?
I mainly like to just go to the meetings they have to voice my opinion and listen to any information, I like my own company and staff respect that.
5. What surprises you the most about living in aged care?
I was surprised how good the care was and the friendly environment.
Our Hairdresser Di is happy to continue to come and
cut/set everyone's hair while Viv is on extended leave.
We all wish Viv well and send our love to her. Di comes on a fortnightly basis and if you would like to get your hair done just ask Marie or staff member to add you to the list. All services are still available fortnightly.
Bus trips are a great activity all our residents look forward and enjoy, they look forward to seeing "Dave the bus driver' and going to all the local areas such as Como, Ramsgate, Bundeena, Woronora and La Perouse. Stopping for afternoon tea and biscuits and taking in the scenery, everyone enjoys each other's company and it's a great time to reflect chat and of course enjoy the McDonalds ice-cream on the way back.
Marie
Marie has been showing us some new exercises during our classes, she sure does get us moving and a grooving.
Monday is a good day at Cronulla Seaside as we have our weekly visit by Debbie and Gyspy the dog from Delta, We all love Gyspy and she puts a smile to our faces.
Granny Smith visits us this Autumn
From our Executive Chef, Barry Rogers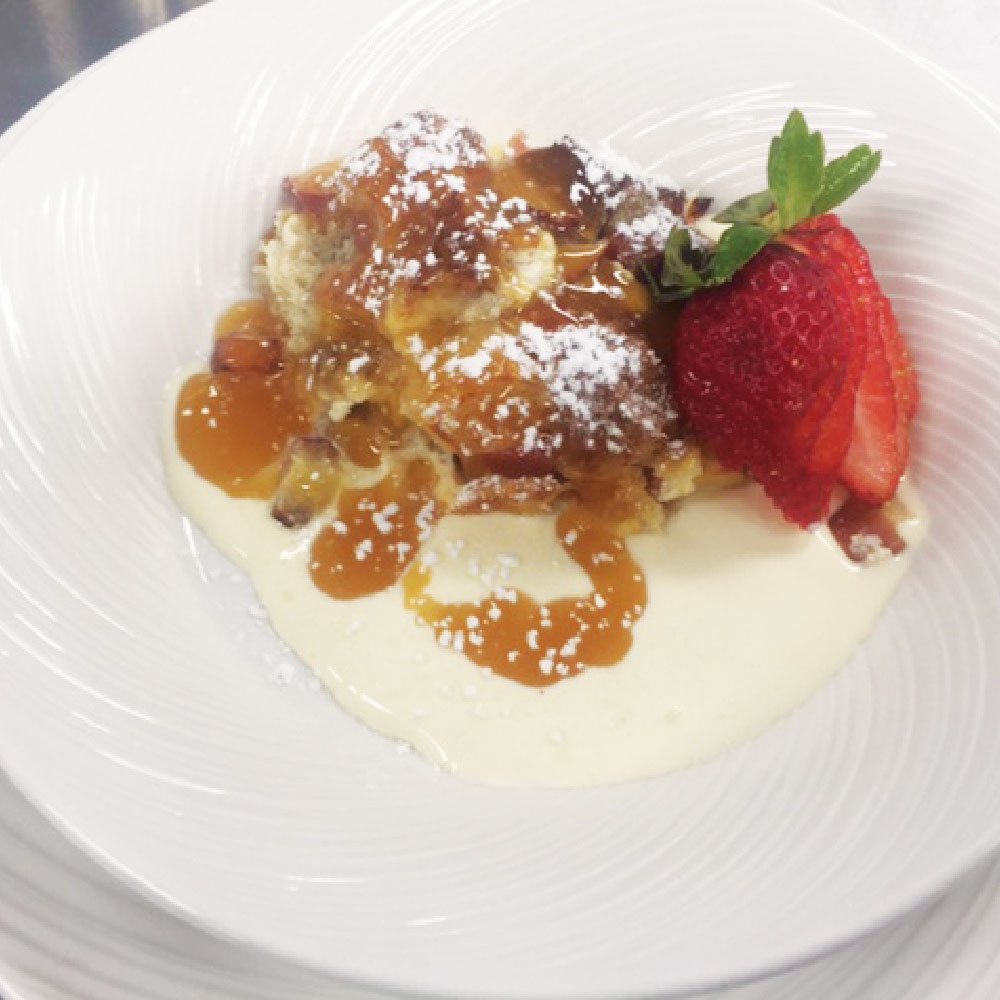 Autumn is the season for Granny smith apples. Granny Smiths have their origin here in Sydney in Epping way back in 1860. Great for cooking or eating they have a sharp refreshing taste Granny Smiths are high in antioxidants are a great source of fibre and contain vitamins A and C. At Pathways Aged Care, we use Granny Smiths in baking as they hold their shape well. A dish we are including in our next seasonal menu is slow cooked Granny Smith apple and walnut bread pudding.
Granny Smith apple & walnut bread pudding.
Diced Granny Smiths apples – 1kg
Granulated sugar – 0.25 cup
Cinnamon – 1 tsp
Eggs – 8 no
Milk – 1ltr
Walnut bread – 250gr
Chopped walnuts – 150gr
1. Using an ovenproof dish grease the bottom and add the diced walnut bread.
2. Sprinkle with diced Granny Smiths apples and chopped walnuts and sugar.
3. Pour half the egg, milk, and cinnamon mixture over the bottom layer.
4. Repeat layers with the rest of the ingredients.
5. Gently mix.
6. Cover and cook until a knife inserted comes out clear.
7. Serve with caramel sauce and ice cream.