THE

PATHWAYS SAILORS BAY

 

NEWSLETTER
Dear Residents and Friends
Welcome to the Summer Edition of our newsletter. As the Christmas season approaches, let us take this time to reflect and be thankful for the gifts we continue to receive – the gift of life, of loved ones, of families and friends, and most of all, the gift of hope. Most of us are eager for 2020 to be over, and as the Harbour Bridge lights up at the stroke of midnight on the 1st of January, the promise of a fresh start and of better things to come greet the year 2021.
At Pathways Residences, exciting things are coming, as well. Not only are we refining and upgrading our services and extra services, but we are also working towards a more effective and efficient way of providing our care and facilitating activities as we enter a new COVID-normal environment.
COVID is not going away soon, and while we, as a state and a nation, continue to do well in managing the community transmission, the risk, especially to the elderly, is still significantly high. I take this opportunity to remind everyone to remain vigilant and exercise prudence when planning Christmas and other holiday gatherings. We are not out of the woods, yet. Please continue to avoid crowded spaces, and maintain appropriate physical distance from others. Most importantly, please always remember to wash your hands with soap and water or a hand sanitiser.
As the star that shone bright in Bethlehem that night highlighted the dawn of a new hope, I pray that the same light will shine through us as we welcome the new year. I wish everybody a very merry and safe Christmas and a prosperous New Year! Maligayang Pasko and Manigong Bagong Taon!
God of all life,
May your love and light shine in and through me today
In a way that no mask can hide.
May my eyes dance with the laughter and joy
Replacing my hidden smile.
May my actions of care and concern
Speak louder than my muffled voice ever could.
And may the generosity of my heart
Radiate out through who I am
And how I respond to the world around me
So that others may not see my mask
But your image shining out
Moving in and through me today.
Amen
Brother Michael Harris, FMS

The "Parol" (Star Lantern),
A Filipino Christmas Emblem
Recently, Disney released a Christmas Ad featuring one of the Philippines beloved Christmas tradition, the "Parol" or a Star Lantern.
If you have ever been to the Philippines during the Christmas season (as early as September!) you would have undoubtedly seen Parols in all shapes and sizes. Christmas just isn't Christmas without it.
The Parol can be traced back to the Spanish occupation of the Philippines, which brought Christianity to the country Originally the Spanish word "Farol" which translates to "lantern", the locals made it their own, and in 1928, a local artisan Francisco Estanislao made the first Parol out of bamboo strips and Japanese paper.
While this simple bamboo star has evolved into more intricate and kaleidoscopic designs, the message of a Parol remains the same – hope.
Have a very merry Christmas!
Our amazing John Fletcher reached the milestone of 102 years. The residents in The Suites all attended a very happy morning tea in the sitting room. When asked what his secret to longevity was, John replied, "I can't tell you that, otherwise it wouldn't be a secret." with a twinkle in his eyes!
Shirley Stock also reached the same memorable milestone of 102 years old age. Our local federal member of parliament, Mr Trent Zimmerman sent a beautiful bouquet of Australian flowers to each resident along with a wonderful testament to their longevity.
We celebrated many other in the latter part of the year. In some instances, family members supplied a cake to enjoy with residents or we provided a cake for afternoon tea to share.
Mrs Betty Pearson on Ground Floor and Mrs Valma Feyer in Baringa both had memorable afternoons. Photographs were sent to families where they were not able to visit their residents. Again we at Pathways have tried to bring as much joy to all on these very special occasions.
Activities Over the Past Months at Sailors Bay
SENSORY TASTING ACTIVITIES
We have had some enjoyable food tastings recently with fruit, cheese and dips. We hold one for each level on a monthly basis. Residents really enjoy savouring different flavours and textures of food with accompanying origins and general information about the fare at hand. They choose future tastings at their monthly Resident's meetings. This activity stimulates some wonderful conversation and reminiscence.
MELBOURNE CUP DAY
For the first time Melbourne Cup was a very different proposition. Each level in the facility had its own Cup festivities rather the joining together in the cinema or Day Club.
Prior to the day Residents on the Ground and First Floors decorated hats for the occasion with brightly coloured flowers and ribbons for the ladies and cards and TAB tickets for the men.
The catering staff provided us with wonderful canapés which were served with mimosas. Although it was very strange watching our "race that stops the Nation" with no racegoers, bookies or trainers, everyone had a good time clutching their sweeps and cheering on their horses. We all thought the horses enjoyed the quiet atmosphere!
REMEMBRANCE DAY
Following on in 'COVID normal' times, Remembrance Day was also very different. As Residents had missed out on their usual ANZAC Day service we were determined to present the all-important Remembrance Day service. In line with most of Australia we held an outdoor socially distanced service. Thankfully it was a beautiful day and we conducted a very moving commemoration which was very much appreciated by the large gathering in attendance – all appropriately socially distanced.
ELLA – GUIDE DOG HONORARY
A resident in The Suites, Mrs Ella Sommerville received a well-earned tribute from The Guide Dog Association in November. Ella has been a longtime supporter of Guide Dogs and she was awarded an honorary lifetime membership of the association. A member visited Ella at Sailors Bay to present this award which was zoomed into her room.
Congratulations Ella, we are very proud of you.
THE SUITES BBQ
With the very clement weather in October, Catering and Lifestyle organised a Fresh Seafood BBQ for The Suites to trial our new seafood supplier.
The BBQ was brought up to the balcony so residents could not only see the cooking in progress but to take in the wonderful aromas as they sat down in the dining room. Lifestyle Coordinator and catering staff served residents at their tables as COVID restrictions no longer allow us to present buffets.
The meal was an unqualified success and we will present more BBQs in the new year after the resident/relative Christmas parties in December.
'HAPPY' HAPPY HOURS!
As usual we have had great fun at our Friday afternoon Happy Hours. We celebrated Oktoberfest with German beer, home-made pretzels and bratwurst sausages soaked in German beer and wrapped in bacon. Residents had an "oompah pah" great time. Thank you chef, Brodie.
On Halloween our patisserie, chef, Stephan, fashioned creepy sausage fingers for us to nibble on and the most amazing ghost cup-cakes. We pared these up with the Cocktail of the month, a Vampire's Kiss.
At these sessions we always present themed activities and pertinent information which the residents absolutely love. Roll on Friday 3.00pm!
OUR SELF-DIRECTED ART GROUP
We have a magnificent group of artists who paint once a week. They are completely self-directed and sketch and paint in the art room whilst listening to soft classical music in the background. Residents involved look forward to this activity; it is a great avenue for stimulating the imagination, offering an opportunity for self-expression, maintaining dexterity and level of function and promoting feelings of achievement. Everyone leaves with a contented smile on their faces. They are a talented group of which we are proud.
FROM OUR EXECUTIVE CHEF, BARRY ROGERS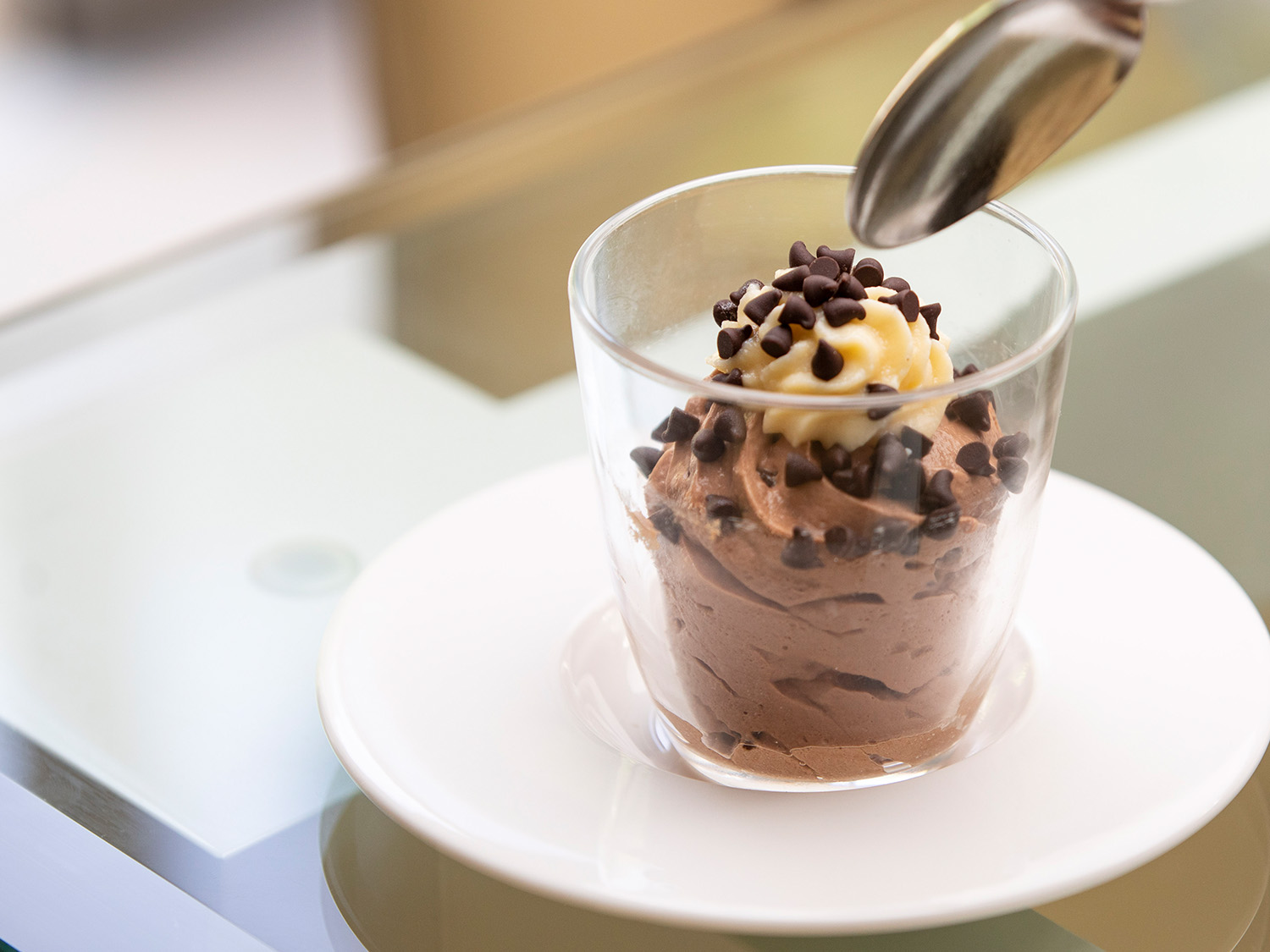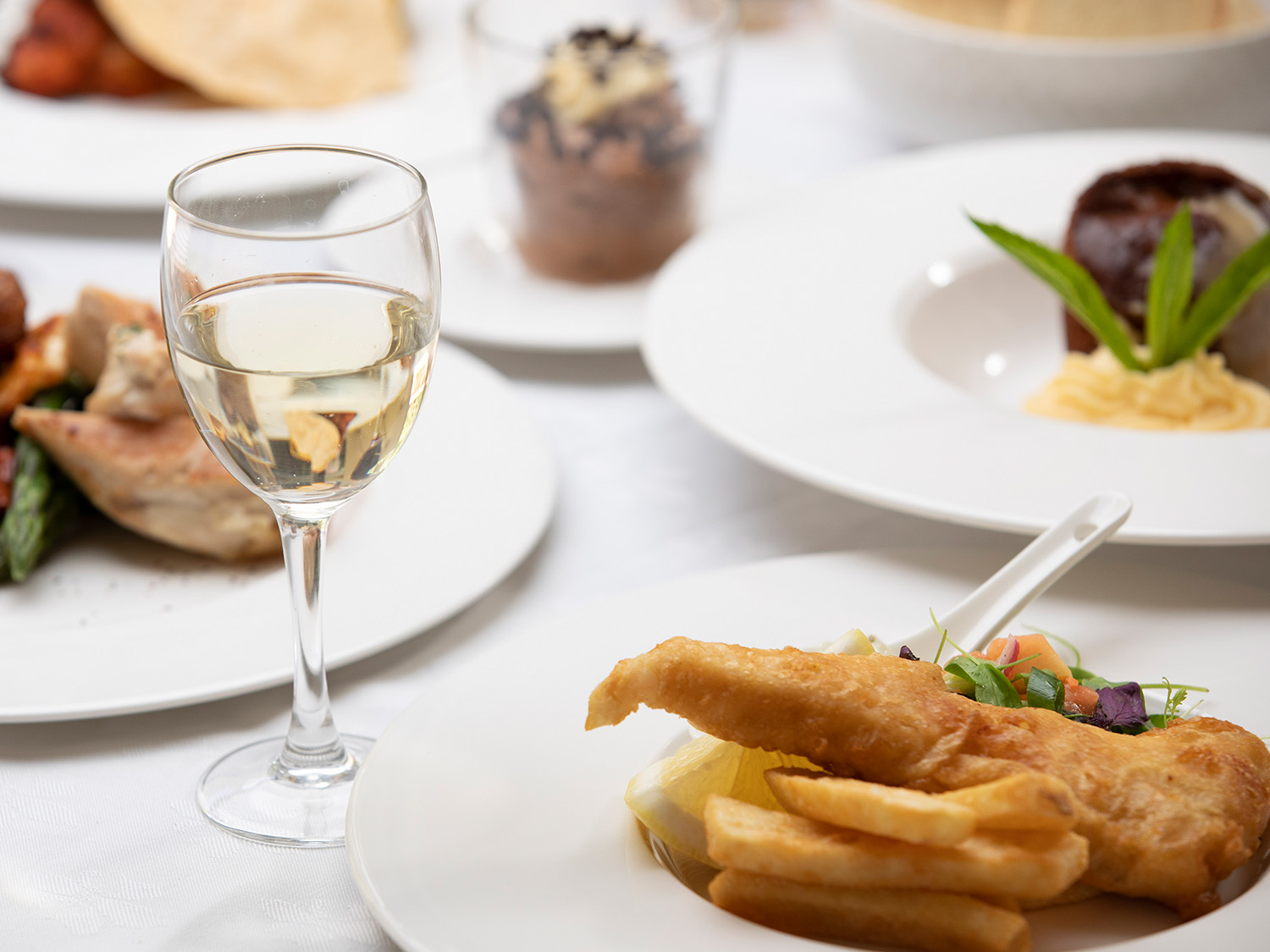 HOMEMADE CHOCOLATE SEMIFREDDO ICE CREAM.
We have a fresh fish and seafood supplier who has been able to supply some fresh Ling fillets, South Coast bream fillets and tuna which has provided an exciting element to our menu.
Chefs have also been making our own ice cream to a special recipe that is suitable for texture modified diets.
The Resident relative Christmas luncheons have commenced to some wonderful feedback with comments such as "loved it all "and "it felt so personal" and "so Christmassy" .
The idea came about so relatives were able to have a different private Christmas celebration during Covid with their loved ones..
Ingredients
8 egg yolks

500gr castor sugar

300gr thickened cream

150gr lightly whipped pouring cream

Chocolate mousse mix

Sustagen

Resource thicken up
Method
Make custard

When cool place in electric mixer with
whisk attachment.
Add chocolate mousse mix and beat on low
speed for 2 mins.

When mixed beat on high speed for 10mins.

Fold in Sustagen powder and resource. Beat
till smooth.

Pipe mixture into a glass or bowl.

Sprinkle with choc chips and place in freezer
till set.

Garnish with whipped cream and mini flake.