THE

PATHWAYS CRONULLA PINES

NEWSLETTER
DIANA'S COLUMN
Pathways Group Operations and Quality Manager, Diana Gautier
Dear Residents and Friends
With the release of the Royal Commission Interim Report, we would like to reassure all our residents and families that we are very passionate about delivering the very best care and are always humbled that you entrust us to look after you or your loved ones and we take our role very seriously. Our values are focused on respect for the individual, whether it be a resident, their family, carer or member of our care service team. You can rest assured that we are committed to quality for those in our care, along with the support of our dedicated staff.
Our focus is on doing what is best for our resident at every interaction and we have robust systems and processes in place to monitor the care provided to enable our residents to age with dignity and purpose. It is vital that we recognise the commitment that older Australians made in ensuring we all have the life that we now enjoy. We believe it is important that we respect the sacrifices they have made and embrace the rich tapestry that their life stories hold.
Following the introduction of the new aged care quality standards in July 2019, Pathways Residences embraced this opportunity to align our care and services to ensure a consistent approach in the delivery of our services that are structured around best practice.
It is essential that the wider aged care sector has the right framework in place to ensure as an industry we can adequately respond to the complex care and health needs of our ageing population. We have many innovative and exciting projects that we will be implementing in 2020, including improving our methods of collecting feedback from surveys, quality and compliance software, engaging with our local schools and community providers to implement Intergenerational Projects with the residents.
Pathways Residences believes in and embraces person centred care values. We are passionate about providing a nurturing and caring environment in which the recognition of individuality, personal interest, independence and peace of mind are paramount to all that we do. It is our belief that the health of our residents, their wellness and enjoyment of the highest quality life attainable, is guaranteed through our pursuit of excellence and steadfast commitment to providing outstanding care.
The Interim Report is a major step forward and we back the Royal Commission 100 per cent as a once-in-a-lifetime chance for change. If you ever have any concerns about your care or the care of your loved ones, please make an appointment to see the Facility Executive Manager and be assured that it will be taken seriously and addressed with the upmost professionalism.
Kind Regards

Diana Gautier
Group Operations and Quality Manager
Café Trading Hours
Cafe Closed Christmas Day, Boxing Day and New Year's Day
MON – FRI: 9.30am – 4pm (last coffee served at 3.45pm)
SAT – SUN: 10.30am – 4.30pm
Please check notice at café for public holiday closures.
Salon Closed
From the 25th of December until the 6th of January
Parking Changes
Dear Resident Families, please be aware that the parking signs just outside the front of the facility of Pathways have just been changed to "Loading zone" and "No Parking" towards the driveway.
Please be mindful when parking on the street to always park legally. Parking inspectors do walk the street and will not hesitate to fine you. Do not park in the loading zone or no parking, as you may only stop to pick up or set down passengers at the kerb.
Thanking You.
Happy Holidays!
From everyone here at Cronulla Pines we wish you all a safe and happy holiday season. May it be filled with laughter, love and leisure.
One of the core values we hold dear here at Cronulla Pines is the awareness of holistic care. It is important to us that all of our staff interact and have a relationship with the Residents, not only so they can get to know who it is they are caring for, but so the Residents can feel confident and comfortable in who is delivering a service to them. To this end, one of our wonderful chefs, Sukesh Sadanand, has been "meeting and greeting" the Residents during meals to seek their input and get to know one another.
On November 20th, we had a very special birthday 100 years in the making. Francina Kemp, nicknamed Ina, celebrated this milestone surrounded by her friends and family, including her three daughters, her grandchildren and great grandchildren. Ina was born Francina Dees in Zandvoort, Holland in 1919. She married her husband Peter Kemp, a carpenter-builder on June 4, 1943, during the German occupation. After the war, Peter and Francina applied to emigrate to Australia and moved to Sydney in 1952 with their daughters Connie and Frances, settling in Sylvania. In 1956, another daughter Eleanor was born. Ina loved to go bushwalking, would knit teddies for local hospitals, enjoyed going to concerts, painting and reading the paper (which she still gets every day!).
The Race that Stops the Nation brought the whole facility to a standstill as the Residents cheered on their horses, all the while sipping on champagne. Everyone came dressed to the nines in their party finest, creating fierce competition for the Best Dressed awards. Highlight of the afternoon was one of the makers of THE CUP bringing in one from 2017 for the Residents to hold and take photos with.
In honour of All Hallows Eve this year, the Residents partook in a potions class with a particularly wicked witch guiding the way. After entering into her den of trouble, truly terrible curses were cast, various potions exploded and magic seeped into the air all around them. The Residents concluded their tutelage by imbibing several potent brews whilst feasting on eyeballs and skull bones.
KRIS' FEATHERED FRIENDS BIRD SHOW
In November, Krissy returned in flurry of feathers along with her wonderful menagerie of colourful birds to delight and wow the Residents. Showing off the likes of Apricot and Lemon Chicken, as well as a beautiful collection of parrots and even a bunny, the Residents were all enchanted. A few plumes were a little lighter as Kris said her goodbyes, leaving scattered feathers along with many happy faces on the way out. Oh, as well as an egg!
MATTRESS PROTECTORS FOR PRESSURE INJURIES
When individuals age, the skin naturally loses moisture and collagen is no longer produced, leading to a higher incidence of pressure injuries that are difficult to treat effectively. This along with decreased mobility can lead to pressure injuries with a swift onset.
Our residents are monitored daily for skin integrity and are encouraged to voice any concerns or discomfort in areas prone to pressure injuries. Care and allied health staff regularly assist residents to reposition in bed or on their chair to minimise the risk of pressure injuries. Staff also encourage regular exercise, walking and movement to improve skin integrity and decrease pressure.
All residents that have pressure injuries or are at high risk of developing a pressure injury are provided with an appropriate mattress or other necessary equipment by our Occupational Therapist, Ashlee.
It is very important that no mattress toppers or mattress protectors are used on beds with special pressure care mattresses. This makes the mattress less effective and can cause the pressure injury to become worse. If residents are using a pressure cushion, it is important not to cover the cushion with a sheet or towel.
Any family member or resident with questions about pressure care is warmly encouraged to speak with Ashlee (our facility Occupational Therapist).
Bringing a meal to a friend or relative in an aged care facility is a lovely gesture, however, we would like to remind resident's families of the importance of safe food handling practises when bringing in food for their loved ones.
As we get older, our immune systems become weaker, meaning that elderly people are more vulnerable to harmful foodborne illnesses and the consequences can be very severe.
For the safety of our residents, please take extra precautions when preparing, transporting and please deliver any food that needs to be stored in the fridge to the Registered Nurse or care staff. Please note, food that has been opened will be discarded after 24hours.
If you would like further information, please enquire at Reception/Admin to receive "Important information on food safety tips" brochure, to protect our vulnerable residents.
NEPALESE GOAT CURRY
From our Executive Chef, Barry Rogers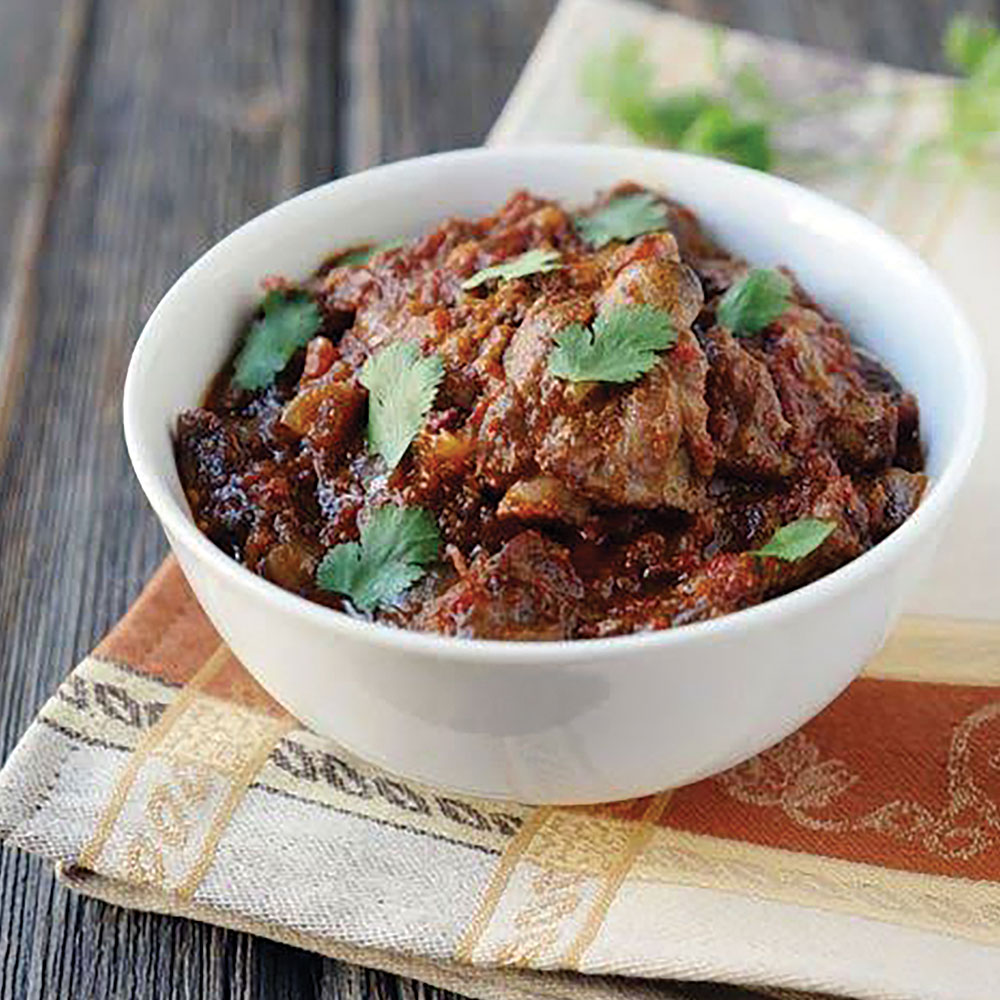 With the introduction of our new Pathways Residences menu this summer, the Chefs decided it would be a great idea to incorporate some of their traditional dishes for our Residents to enjoy.
One of their favourites is Nepalese Goat Curry which they are really looking forward to presenting.
This was trialled with a focus group of our Residents and all commented on how delicious it tasted.
2kg Diced goat meat on the bone
3 large red onion diced
100gr fresh ginger grated
100gr garlic sliced thinly
2 large tomato diced
Coriander root diced fine
1 x tblspn turmeric
2 x tblsp coriander powder
2 x tblspn cumin powder
1 x tblspn garramasala
2 x tblspn mustard oil
Fresh Coriander leaves for garnish
1. Saute onion, garlic, ginger and spices in oil till fragrant.
2. Add goat meat and brown.
3. Add diced tomato.
4. Add desired stock till meat is covered.
5. Place lid on pot and simmer gently for 1.5hrs.
6. Check goat for tenderness and serve with rice, yoghurt and coriander leaves.
Calendar of special dates, activities & events
December 2019
Tuesday 10
Dr. Paul Leventhal Musical Appreciation at 2pm
Thursday 12th
Christmas Market
Wednesday 18th
Residents Christmas Party
Thursday 19th
Christmas Church Service
Please note that the days and dates listed above may be subject to change.