THE

PATHWAYS CRONULLA PINES

NEWSLETTER
Dear Residents and Friends
As many of you would be aware the COVID -19 Virus has been declared a Public Health Emergency of International Concern by the World Health Organisation and presents a challenge for us all as we approach the influenza season. People living in residential care facilities represent a potentially vulnerable population to the pandemic virus due to a variety of factors such as older age, disability, chronic illness, comprised immune systems and close living arrangements.
We would like to reassure you that we reiterate the importance of infection control practices and reviewing our emergency response plans in preparedness for an outbreak, we have recently reviewed an updated our infection control policies and we have developed an influenza pandemic preparedness plan to ensure we are prepared for an outbreak should it occur.
With the 2020 Influenza season fast approaching we encourage all residents to receive the influenza vaccination when it is available in April to protect them further, Pathways Residences will also be providing the influenza vaccination at no cost to all our staff and volunteers to further protect our residents during this time.

The COVID -19 virus is most likely spread through:
• close contact with an infectious person
• contact with droplets from an infected person's cough or sneeze
• touching objects or surfaces (like doorknobs or tables) that have cough
or sneeze droplets from an infected person, and then touching your mouth or face

We do not recommend surgical masks for healthy members of the public. A surgical mask will not protect you against the virus. A mask only needs to be worn if anyone is taking care of a person with a suspected COVID-19 infection or if you are coughing or sneezing. Mask are only effective when used in combination with frequent handwashing with an alcohol based hand rub or soap and water.
Everyone should practise good hygiene to protect against infections. Good hygiene includes:
• washing your hands often with soap and water and each time you visit and leave the facility
• using a tissue and cover your mouth when you cough or sneeze
• avoiding close contact with others, such as touching
If you become unwell there is potential of a significant risk to your family member and our family of residents. If you think you may have symptoms of coronavirus or if you have a fever, cough or difficulty breathing we encourage you to stay at home, seek medical attention and you must not visit the facility while you are unwell so we can protect our residents.
We are continuing to monitor staff annual leave and what countries they have been visiting and are following the Departments isolation recommendations post travel and we ask that you also follow any of these recommendations.

A 24-hour National Coronavirus Health Information Line available on 1800 020 080. The line provides health and situation information on the COVID-19 outbreak.
Factsheets and resources specifically for aged care staff, residents and families that provide advice on measures to limit transmission of the virus are available on the Department's website – www.health.gov.au/resources/collections/novelcoronavirus2019-ncov-resources.
The More You Know!
During the course of the year, we will be hosting guest speakers at our Relatives and Representatives Meetings to provide education and information sessions for families and loved ones. These are a great opportunity for family members to get up to date information on a Resident being in care. These will include; Manual Handling, Fire Training, Dignity of Risk and Dementia. The next Relatives and Representatives Meeting will be held on Wednesday the 18th of March at 2pm and will welcome our in-house Physiotherapist and Occupational Therapist to discuss Manual Handling.
Accreditation
Quality assessors from the Aged Care Quality and Safety Commission (1800 951 822) will be visiting to check the quality of care and services at Pathways Cronulla Pines. This assessment is called a site audit. The audit will be carried out any time before May. When the quality assessors visit the home, you (or someone who represents you) will be given the opportunity to talk to an assessor about the quality of your care and services. On the day of our audit, we will also notify you via email to provide you with an opportunity to be here during the accreditation.
Care Plans
Would you like a copy of your care plan? Would you like a staff member to read & explain you nursing care plan to you?
If you answered yes to either of these questions you only need to ask the registered nurse looking after you to contact Kirsten (Care Manager), Sandy (Care Coordinator) and Richa (Quality Coordinator) and we can come and provide this to you.
If you would like to meet to discuss any care or services provided at pathways, please contact reception (8522 1000) or speak to the registered nurse caring for you and we can assist to arrange someone to come and meet with you.
Care Page
We have introduced a new survey system to all of our facilities called "Care Page". Staff will be interviewing Residents to gather their feedback in relation to the quality of service they receive from the facility. This can be done anonymously if you so desire. This is so we are always working towards our dedication to continuous improvement and quality management.
Volunteers Program
For anyone who is finding themselves idle and wanting to contribute to the facility we have a volunteers program available. For those Residents with limited family members in particular it would be lovely.
Wandering minstrels, Santa and Mrs Claus, champagne, canapés, balloons, bonbons, the raffle… It is the biggest month of the year for our staff and Residents, and the most fun! At the centre of all our celebrations is the Residents Christmas Party, a whimsical afternoon full of laughter, frenzy and cheer. This year's revelries went off with an absolute bang and left everyone grinning from ear to ear.
We are so pleased to be opening the Norfolk extension to our Cronulla Pines facility. This has been a big process two years in the making, but well worth the effort. To celebrate Residents and Family were invited to an opening and showcase of our wonderful new Norfolk section in January. Small groups were taken on tours of Norfolk Level 1 by the Executive Manager, Admin Manager and our Operations Manager.
The lovely notes of a harp kept others entertained whilst they nibbled on canapés and sipped champagne, waiting for their turn to have a sticky beak. A few Residents shed a few tears when the harpist played several reminiscent tunes.
Halfway through 2019 the staff got together to have a Christmas in July party and gather donations to get something special for the Residents. With the money raised, we purchased a therapy dog and cat for our Residents. "Gertie" Gertrude the Cat and "Bernie" Bernard the Dog can be found in the Links 1 and Pines 2 lounge rooms, often on one of the Residents laps. They are robotic pets designed to be a companion for those in Aged and Dementia Care, they are able to move their heads, "talk back" to you and will sense when a person is in the room. The smiles on the Residents faces when Bernie and Gertie are out and about are priceless.
A DISCUSSION ON ADVOCACY SERVICES FROM OUR EVENTS AND LIFESTYLE COORDINATOR
As we get older, it can feel like our ability to be seen and heard at times slips away from us. The power to make independent choices becomes threatened and we are so much more reliant on others, to the point of significant vulnerability. Coming into care is often a scary and uncertain process. Whilst we strive to make sure that our staff and services cover everything that a Resident should want or need, the presence of an independent party that takes the side of a Resident is crucial. The Seniors Rights Services is a community organisation dedicated to protecting and advancing the rights of older people, particularly vulnerable and disadvantaged groups. They provide free and confidential telephone advice, aged care advocacy and support, legal advice and rights-based education forums to seniors across New South Wales. As part of a project to ensure the Residents are aware of their dues as a Consumer within Aged Care we invited a representative from the Seniors Rights Service to attend our February Residents Meeting and speak to the Residents about their rights. If you would like more information, we have pamphlets available at Reception.
Granny Smith visits us this Autumn
From our Executive Chef, Barry Rogers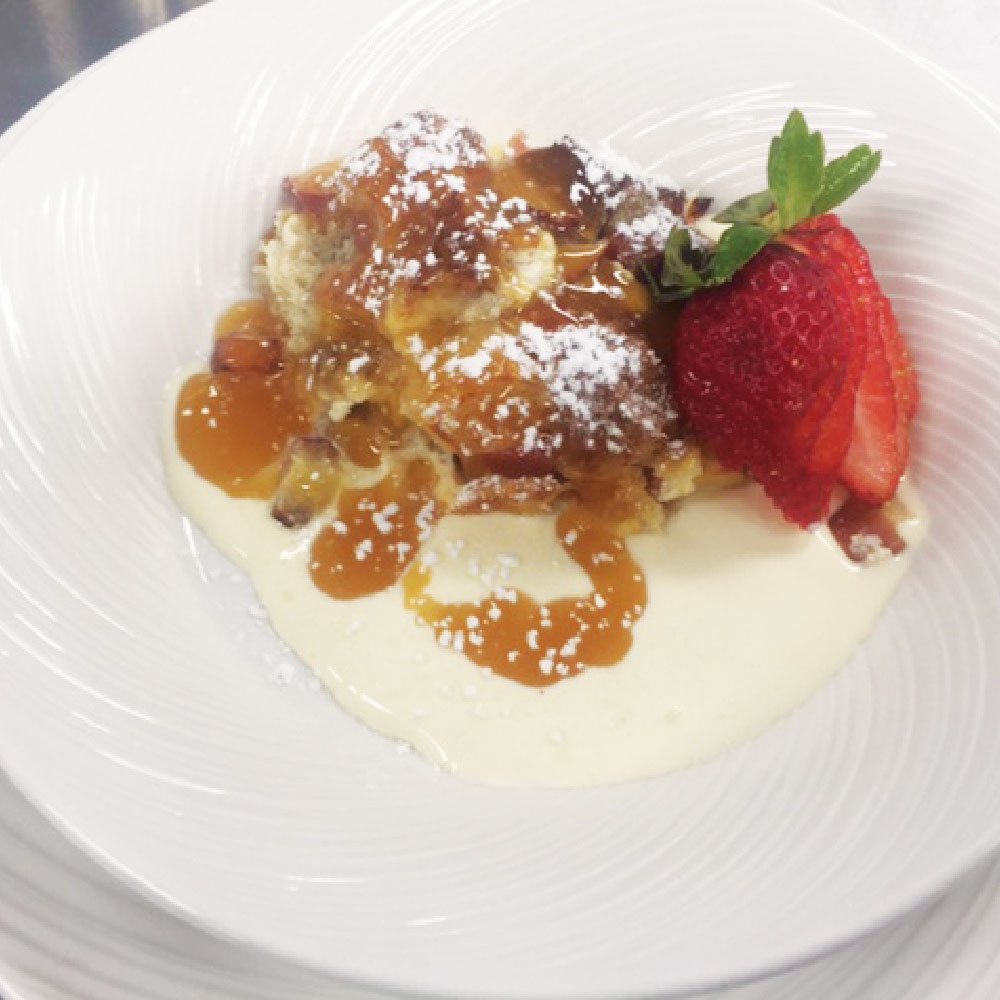 Autumn is the season for Granny smith apples. Granny Smiths have their origin here in Sydney in Epping way back in 1860. Great for cooking or eating they have a sharp refreshing taste Granny Smiths are high in antioxidants are a great source of fibre and contain vitamins A and C. At Pathways Aged Care, we use Granny Smiths in baking as they hold their shape well. A dish we are including in our next seasonal menu is slow cooked Granny Smith apple and walnut bread pudding.
Granny Smith apple & walnut bread pudding.
Diced Granny Smiths apples – 1kg
Granulated sugar – 0.25 cup
Cinnamon – 1 tsp
Eggs – 8 no
Milk – 1ltr
Walnut bread – 250gr
Chopped walnuts – 150gr
1. Using an ovenproof dish grease the bottom and add the diced walnut bread.
2. Sprinkle with diced Granny Smiths apples and chopped walnuts and sugar.
3. Pour half the egg, milk, and cinnamon mixture over the bottom layer.
4. Repeat layers with the rest of the ingredients.
5. Gently mix.
6. Cover and cook until a knife inserted comes out clear.
7. Serve with caramel sauce and ice cream.
Calendar of special dates, activities & events
December 2019
Thursday 12th
Eamon Irish Singer 2pm
Tuesday 17th
St Patrick's Day
Wednesday 18th
Relatives and Representatives
Meeting 2pm
Tuesday 31st
Charles, The Dance Tutor
1.30pm
Friday 10th – Monday13th
Easter Break
Tuesday 21st
Dr Paul Leventhal Classical
Guitarist 2pm
Tuesday 12th
Gail Browning Pianist
1.30pm
Please note that the days and dates listed above may be subject to change.