IMPORTANT COVID-19 CORONAVIRUS UPDATE
NSW Health has issued updated advice which reflects the increasing number of case locations across New South Wales and it is extremely important that we keep the residents safe as case numbers and locations continue to rise in NSW
Home closures across aged care homes in NSW
NSW Health has now issued visitor restrictions for all aged care homes in NSW until 11:59 pm on Wednesday 23 December 2020. All residential aged care homes across NSW must exclude visitors, unless there are exceptional circumstances, such as end of life visits, or the visitor is providing routine direct personal care for the resident. Please discuss exceptional visits with your Executive Manager who will liaise with NSW Health regarding these visits and if they are permissible . Further advice will be provided by NSW Health to us Wednesday 23 December 2020.
Wearing of Surgical Masks
All staff and exempted visitors must continue to wear a surgical mask in all Pathways Residences
Christmas Visitations and Social Leave
Christmas visitation will be based on the advice we receive on Wednesday 23 December 2020. We hope that there will be options for families to see their loved ones over the Christmas period, we will provide you with an update as soon as we have received the relevant advice from NSW Health. We also ask that you reconsider your plans of taking your relative home over the Christmas period due to the risks associated with this.
Please be assured that we are continuing to monitor the situation very closely and we are committed to keeping you up to date as information becomes available
We thank you again for your ongoing support as we respond to this situation and ensure our residents are kept safe
WELCOME TO
PATHWAYS CRONULLA SEASIDE
Pathways acquired the existing 40 bed aged care facility at Cronulla in 2008, which delivers personalised care by the sea. Residents enjoy well-appointed rooms and lounges with ocean views plus access to meaningful lifestyle programs designed to enhance wellbeing.

Due to overwhelming interest from the community, Pathways Residences has recently completed a new state-of-the-art 88 bed aged care residence, Pathways Cronulla Seaside. This new flagship residence will deliver exceptional care, service and our award-winning Wellbeing programs, and offer stunning views over the adjacent Cronulla Golf Club.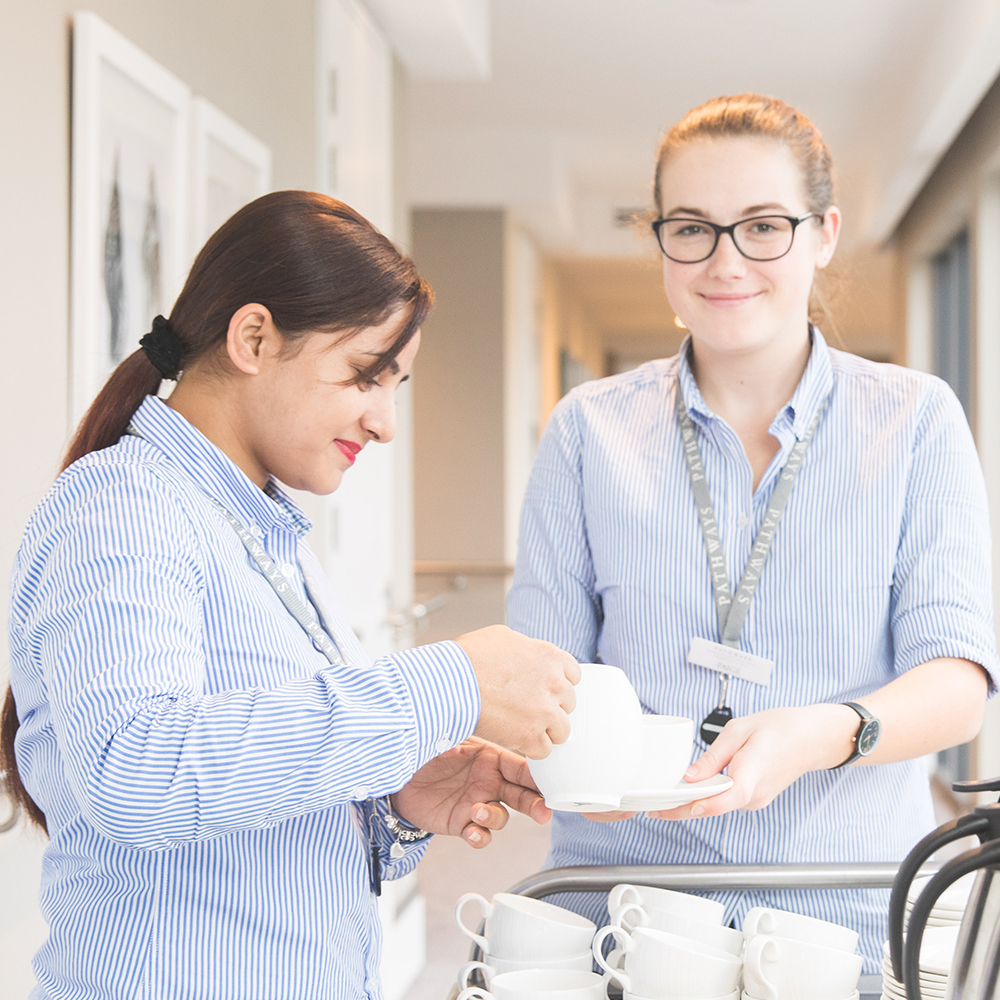 For the team at Pathways Cronulla Seaside, our overarching approach is centered on providing holistic, inclusive and respectful care which embraces the human spirit. It is through our wonderful team of people that we embody this philosophy, and we aim to connect with each resident in a meaningful and personal manner.
From our management team, right through to our catering, lifestyle, administration and care staff, we are focused on achieving the same goal – through each and every interaction to successfully deliver our values of Harmony, Respect and Trust to each resident.
"It's obvious to me that the staff are very passionate and caring of what they do, as it takes a special person to work in age care. I love that the staff are so respectful and polite to me when I walk in, I never have to ask twice for something to be done"
Kim O
Resident Family Member
Rooms at Pathways Cronulla Seaside are custom designed and built solely around our residents needs of care, comfort and enjoyment.
The interior combines practicality and aesthetics with timeless elegance and local influences.
Our Key Features Statements below provide further details for each style of room at Pathways Cronulla Seaside, however please contact us for further information on how we can assist in finding you the right accommodation.
Our Key Features Statements below provide further details for each style of room at Pathways Cronulla Seaside, however please contact us for further information on how we can assist in finding you the right accommodation.
At Pathways Cronulla Seaside, our meals are nutritionally balance and prepared on site using the freshest, high quality produce available.
Using the finest produce on offer, executive chef Barry Rogers presents restaurant quality menus that are constantly changing and freshly prepared every day. Individual dietary requests and cultural preferences are accommodated wherever possible.
Meal satisfaction is regularly monitored through discussion, meetings and surveys. Our residents are encouraged to enjoy family meals, parties and other celebrations.
Pathways Cronulla Seaside features a Lifestyle Program designed to enrich quality of life through a diverse range of activities based on on interest and needs, and evaluated through feedback and observation. From social BBQ lunches and pet therapy to sing-alongs, trivia and artistic pursuits, the programs are designed to keep both the mind and body healthy and active.
With a range of activities to suit just about anyone, Pathways Cronulla Seaside encourages residents to participate in what suits them – whether that be activities based on creative, cognitive, physical or emotional outcomes.
Residents also have the opportunity to shape the programs ensuring an all inclusive environment.
In order to help you with your decision making we suggest you contact our admissions team to arrange a tour of our facility and meet the Executive Manager to discuss care needs and our services.
There are four steps to organising admission:
Admission Enquiries

Contact our Admissions Team on (02) 9523 3430 between 9am and 4pm Monday to Friday to arrange an appointment or to ask for any information.
Enquiry Pack
During your appointment, an enquiry pack including the following information will be presented:
– Facility overview
– Sample of activities
– Doctors list
– Fee summary table
Assessment by the Aged Care Assessment Team (ACAT)

This assessment is completed by an assessor from the ACAT team. You will require an ACAT assessment to determine if you are eligible for residential care or residential respite care. This assessment along with your pre admission meeting allows us to ascertain the best approach in relation to your individual care needs.
Return of all relevant forms

Please complete all the relevant paperwork from the admission pack prior to your arrival.
For all enquiries please contact us using the details below or fill out the form.